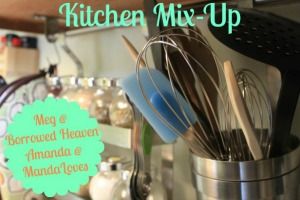 Do you watch any shows on the Food Network? I'm addicted to Chopped. Always have, always been. I love the creativity behind making a tasty dish with a random assortment of ingredients. I am constantly inspired by the flavor profiles of these chefs. Watching competitions like this make me more courageous and ambitious in the kitchen. Also, they make me pretty hungry!
It just so happened that I stumbled upon an awesome link up of my girls Amanda @
Manda Loves
and Meg @
Borrowed Heaven
. The concept is very simple. It is a monthly link up where four ingredients are provided in the virtual "basket" and it is our job to create original recipes by the end of the month link up! I'm so excited!!!
Day 9: Today I am grateful for freedom. No matter what your political position or how you feel about the health care bills, economic status, etc. we are beyond blessed in the United States to have freedom. I am forever grateful for our service women and men who dedicate their lives to protecting our country and I pray that God bestows wisdom and fills the emptiness in your heart being away from your loved ones to serve.
HOSTED BY:
CO-HOSTED BY:
_________________________________________________________________________________
Now it's your turn to tell me how you've been doing this week?! Did you instagram pictures or are you doing daily posts about each specific item? That's alright, just link those up if you'd like instead! I'm intending on inserting my photos when I have a chance. It's fun to get a visual of each item I'm listing as a thankful item :)
Rules:
1. Follow your hosts Keeping Up With Kelsey & Southern Beauty Guide
2. Follow your co-hosts To Be Mrs. Collier & And That's Beautiful To Me
3. Post the button onto your blog post so others can come link up as well
4. Link up your post below and look around at others blogs!