Have you heard of
Graze Nibble Boxes
? Keeping with the rage with monthly boxes full of goodies or makeup and melding with the theme of clean, healthy living. Simply put, Graze Nibble Boxes are four pods of yummy snacks that cost $6 per box. And you can get them as frequently as weekly or spread it out as a monthly treat for $6 total!
As you know, I've tried a similar concept product called NatureBoxes [
my NatureBox Review
] but I honestly preferred the Graze Nibble Box. Yes, I received this Nibble Box for free but you can too! I have four friend codes to give away and the first people to comment get the code!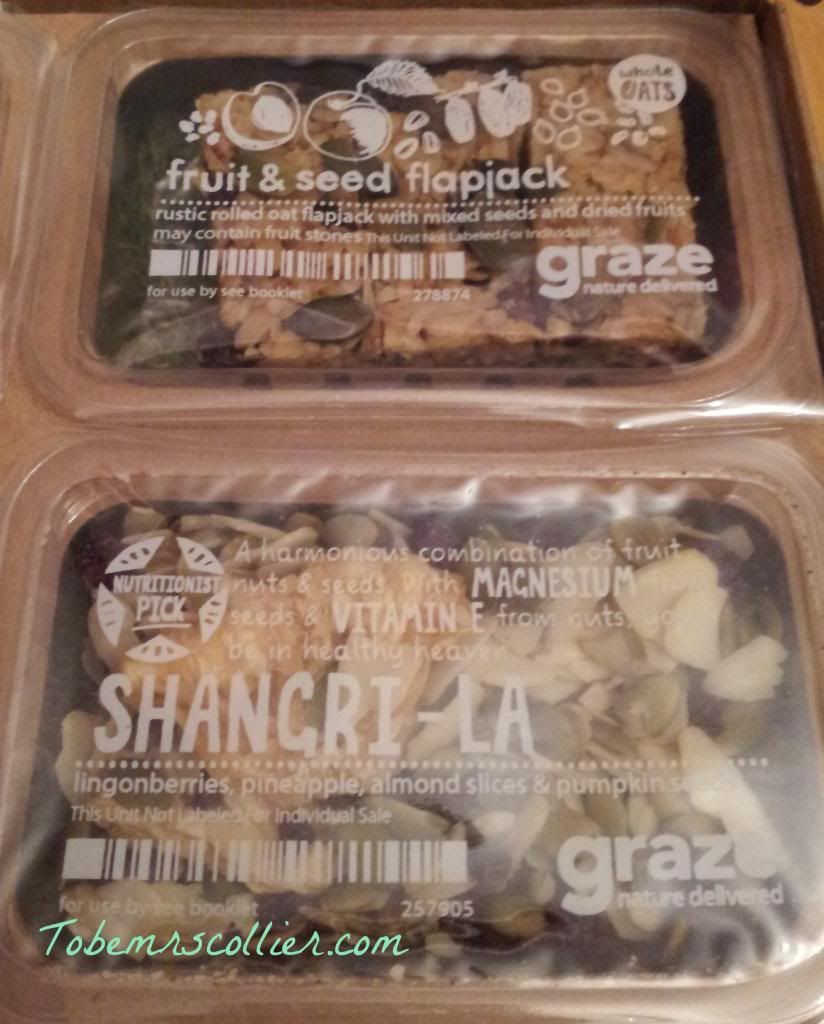 The flavors were amazing! I am all about freshness and healthy snacks that don't have a bunch of phony-baloney flavors.
The Shangri-La was an in-depth mix of berries that I've never heard of with dried pineapple and pumpkin seeds. Yum-o! Habas Tapas and The Key Lime Pie mix were equally tasty. Mr. Collier preferred the key lime pie because eating each individual piece made a fork-full of key lime pie taste in your mouth.
My favorite snack was the fruit and seed flapjack. They were so moist and the closest thing to a homemade granola snack bar that I've ever tasted! I seriously cannot wait to try more!
In addition to the flavors and freshness, the portions were fair in size for the value. And I'm all about frugality!!
There are two improvements that could be made to the Nibble box product.
First, it would have been awesome to have a serving size and nutritional label on the pod. But at least they give it to you on the back of the little card insert with your nibble box. I was surprised that all of my snacks were single portion but also under 200 (with the exception of the fruit and seed flapjack).
Second, having resealable packages would be an awesome addition to the little pod. As a snack, I wanted to stretch the contents of each pod and had to aliquot the snacks into the baggies.
Remember, if you are interested in trying our the Graze system leave a comment below and be sure I can contact you via email!!
Day 14: Today I am grateful for home.
Isn't t amazing how the definition of home changes over your life? I could remember a time not too long ago when my parents' house was home. It was that place that I longed for with all of the familiar smells and feelings. Chicago used to be considered home for me. Born and raised, I didn't get out until I was in my first year of graduate school. That is 22 years of calling Chicago my home. Now, when I get asked where I am from," Chicago" is always my response. But I don't really consider it home anymore.
These days, I don't long for my old bedroom with the green walls inspired by my favorite musical WICKED. I miss my parents and their dog like crazy but home is in Nashville. I've been making Nashville my home for close to five years. I love it here. And that is partly because home is where I am with Mr. Collier.
So today, I'm grateful for the concrete, the four walls and the roof over my head. I am blessed and grateful to have never experienced homelessness. But I do have a heart for those who do.
HOSTED BY:
CO-HOSTED BY:
_________________________________________________________________________________
Now it's your turn to tell me how you've been doing this week?! Did you instagram pictures or are you doing daily posts about each specific item? That's alright, just link those up if you'd like instead! I'm intending on inserting my photos when I have a chance. It's fun to get a visual of each item I'm listing as a thankful item :)
Rules:
1. Follow your hosts Keeping Up With Kelsey & Southern Beauty Guide
2. Follow your co-hosts To Be Mrs. Collier & And That's Beautiful To Me
3. Post the button onto your blog post so others can come link up as well
4. Link up your post below and look around at others blogs