Hello lovely viewers out there who may or may not be there....am I just talking to myself?? Even if I am just talking to myself, I picked out some really interesting pins this week from
Pinterest
. Some I could easily do to our home but others are just bizarre. But it is the bizarre that makes them worth pinning, right?
Giving Concrete Character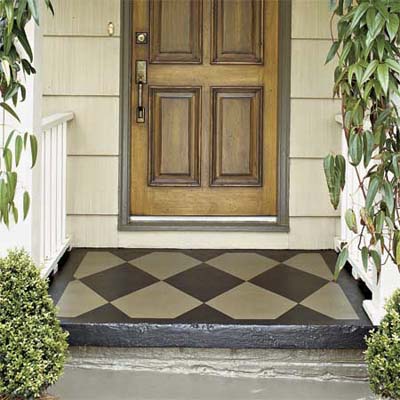 Painting patterns into those concrete slabs adds a touch of dimension and flair. I could easily see this on a front stoop or back patio space. Any number of patterns would work: houndstooth chevron or traditional stripes to name a few. I love the color selection here because the gold/brown play well off of the black.
Re-purposing Racks for Herb Gardens
Organizational racks such as these can be found at flea markets, thrift stores and yard sales on the cheap. Why not add a little growth to it for an upright garden? Notice the burlap to hold the dirt and roots from slipping through the little spaces. And again, you can paint the thing any color that you would like to match or not match your backyard.
Hair Dryer and Straightener Storage Solution
source
My "hair supplies" drawer is always a hot mess. There are cords, hairspray, combs and brushes all fighting for equal space and facetime. With a PVC combo like this, you no longer have to covet the stylist's perfectly organized stand!
Trophy Tie Holder
source
How cool and bizarre is this? I imagine this would work with belts, keys and a variety of objects that require creative hanging. I never considered spraying trophies a monochromatic color let alone hanging them on a wall. But it makes a lot of sense!
Fabric Liner for Drawers
I've seen variations of drawer liners with scrapbook paper as an alternative to the traditional contact paper method but this is a stiffened fabric as a drawer liner. Any Jo-Ann's or fabric stores provide a plethora of possibilities!