Happy First Day of Spring!! Well, sort of. According to the date, it is. As far as the temperature here in Nashville, you have got to be kidding me! I realize as a former Yankee transplant that I should be "immune" to the cold (or at least that is what EVERY Southern Bred individual tells me) but that protection packed its bags and left me about two years after moving south of the Mason-Dixon line! I digress. Spring is ahead and I've kept that in mind in pick this week's
Top 5 DIY Home Weekly Pinterest Pins
. Don't forget to follow me on
Pinterest
as well as
Bloglovin'
if you haven't already!
Upcycled Ottoman
I would be shocked to find out an ottoman is made of two pieces of wood and some batting! But look at how cool this turns out for a fraction of the price of a brand new ottoman.
Pallet Shelving/Wall Display
I am a huge fan of rustic pallet wood, if you haven't figured that out already!
Organize Outside Toys
Spring is coming and the nice weather will show up eventually! Why not be organized and prepared in easy access containers for the little ones? I think these galvanized tubs look awesome with their big labels!
Favorite T-shirt Wall Art
Everyone has their favorite T-shirts from trips, college, intramural team sports, teams, etc. But when they run ragged what do you do with them? Until now, I would have responded with,"Make a T-shirt Quilt." But think how cool a room would look with a wall of canvases covered with your favorite T shirts which have seen better days? T-shirts could be perfect decoration for a bedroom or rec room.
Cheap Shelf Construction for Organization
These shelves were made for about $60 and really bring the room together.
New Take on the Spice Rack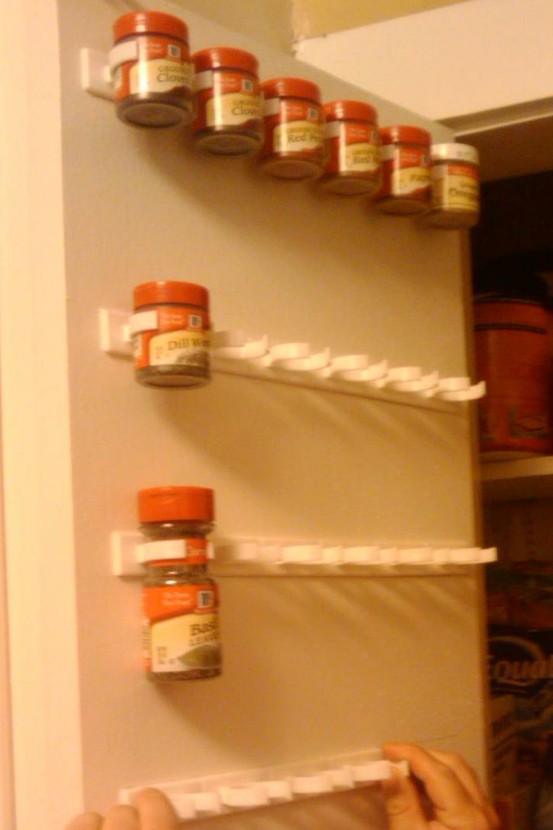 Everyone buys McCormick spices! Why not take some broom closet organizers and make it easier on yourself to find that cumin or apple pie spice that is always buried in the back of the spice cabinet? I love this idea!!!