As I'm building my inspiration board I've stumbled across really easy and creative ideas that are both budget friendly and helps incorporate cute accents to any celebration or just everyday decor.
Using bangle bracelets as napkin rings
(which can be found at the bottom of jewelry boxes, garage sales and thrift stores)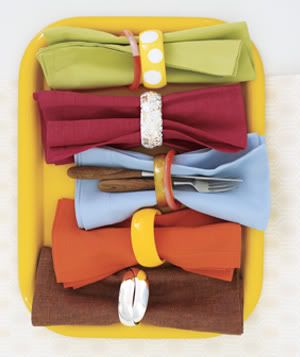 Think of the possible combinations with brightly colored napkins! Doubling as favors, the bracelets could even be creative favors for a bridal shower or a bridesmaids' tea luncheon.
Tea canisters as bud vases
(two for the price of one! You get to drink the tea then enjoy the canister)
I thought this was super creative because the tins displayed above can be found at specialty tea shops, international grocery stores, or
World Market
.
Picture Frames as Signage or Menus
(very useful for both wedding and at home; it is the new customizable dry erase board)
I have tons of scrapbook paper and empty old frames hanging around the house and combine that with my personal love of lists, I fell in love with this idea! Another possibility is utilizing the old picture frame as a prop in a photobooth for guests to write messages without having to worry about getting chalk on their fancy clothes or regular dry erase boards having too much of a reflections for pictures!
Paint Swatches as Escort Cards
(Let home improvement stores be your resource!)
You can add tons of color to brighten up a space by using paint swatches and not to mention they are FREE. Imagine if you are a huge college sports fan (or your hubs-to-be is) you can incorporate team colors quite easily. Just don't let the home improvement store figure out where all the Kentucky Blue swatches are going!
Cookie Cutters to Personalize Candles
(A unique way to decorate the unity candle or cake table decor)
A cookie cutter set runs about $10-15. I found them on Amazon at
FoxRun
and
Wilton
. To me, candles immediately convey romance regardless of the the location. By engraving the candle you can create a very sophisticated and subtle personal stamp on your wedding. I know that is important to Mr. Collier and me. The Wilton set even includes numbers so you can include your wedding date and generate a keepsake for your home. The cookie cutters may also be used as favors by creating cookie monograms!
Vintage Earring
s as Accessories
(commemorate loved ones or create a classic look)
It seems that many brides are crafting up their wedding shoes to reflect their personalities by adding jewels to create their monogram or "I do" to the bottom of their arch but incorporating vintage jewelry is super cool. If you don't have any classic looking earrings, head to your local thrift store for less than $5. Afraid the earrings might fall off? Well, glue or sew them on!